25 YEAR REUNION
ST. JOHNS COLLEGE
DANDENONG
CLASS OF 1978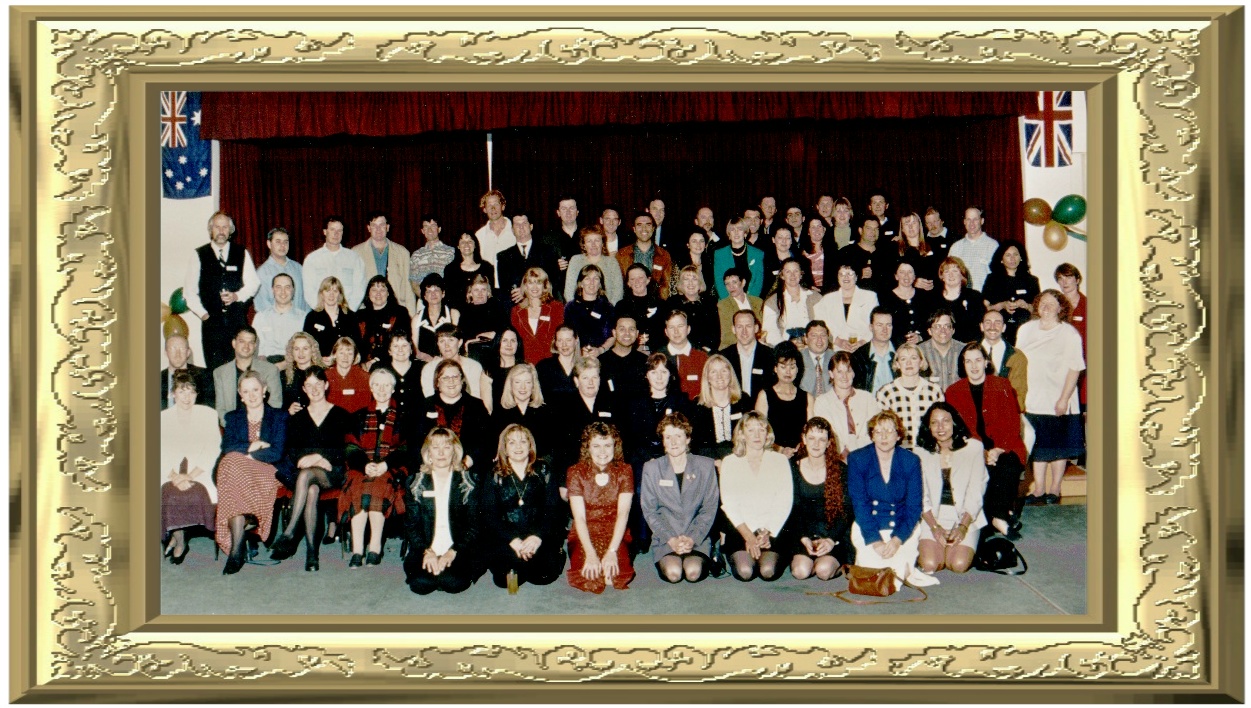 "The 1997 Reunion"
The picture above is from the 1997 reunion which was attended by the people below.
FRONT ROW: Terese Groves, Anna Farrugia, Christine Creagh, Carmel Heron, Wilma Verschaeren, Savanna Broomhall. Michelle Sherlock,Sheila Weischardt.
SECOND ROW: Rosemary Custerson, Patricia Dalton, Pauline Bolch, Sister Genevieve (Teacher), Marina Disegna, Susan Trushnagk, Christine Mosely,Louise McMahon, Rosemary McDonald,Patricia Remy, Julie-Anne Brown, Jenny Martin, Jan Gubbins.
THIRD ROW: Damian Haliday, Gilbert Cabral, Rosemary Giacomelli, Debbie Wallace, Patricia Kearney, Jenny Kerr, Margaret Keane, Monica Linke, Cameron Major, Anthony Saffigia,Anthony Castricum, Adrian Gilbert, Shane Hussey, Ron Van Schyndel, Gerard Delorenzo, Mary Foy.
FOURTH ROW: Guedo Dissegna, Janine Willens Van Dyk, Maria Daniluk, Christine Savannah, Jenny Colville, Lynne McKay, Grainne Doherty, Margaret Clark, Wendy Greene, Karen Elbers, Rose Lavery, Maureen Gillen, Jane Sweeney, Kerry Lindsay, Marie-Anne Latouche, Marie Rhynehart.
FIFTH ROW: Derrick Barragwanath(Teacher), Michael Elders, James Carew, Mark Gaze, Bill Thompson, Edna Le Meire, Terry De Koning, Peter Flanagan, David Boyd, Barbara Davis, Michael Milner, Sam Mesiano, David Norley, Cathy Evans, David Hatt, Sue Prigg, Frank Dalzotto, Tony Ashwood, Gwen Budd, Paul Cipressi, Helen Ryan, Peter Carmody, Raelene Barushi, Gino Martin, Alex Andrews, Christine Pratt, John Everett, Ron Willemson
The 25 Year Reunion:
I'm putting the reunion together with Wilma Verschaeren (now Doherty). I'm calling all the guys and she's going to call all the girls. If you have the names and contact details of anybody from St. John's please pass them on to me so that I can update our database.
St. John's Class of 1978 Reunion Schedule
I'm organising dinner at Sinbad's in Dandenong on Sat. 8th of Nov. at 7pm. The owner/chef of Sinbad's is a former St. John's teacher John Camillo. He's offered us a banquet for $35. Sinbad is at 202 Thomas St. Dandenong (9794 7239).
The Banquet includes Hommos (chick pea dip), Baba-ghanooj (egg plant dip), Labnee (youghurt with cucumber dip), Beetroot dip and Taboulie (tomato, parsley, crushed wheat, lemon juice and olive oil). The second wave of entrees is a selection of pastries, Lahm bajin (filo pastry rolls filled with meat and pine nuts), sambousek (deep fried golden triangles filled with fetta cheese), falafel and lemon chicken wings. The third wave consists of the main courses, chicken, lamb kababs, barbecued lamb and fish or calamari. Lastly a selection of sweets: Baclava, Mahalabie (Lebanese custard) and Turkish Delight served with Lebanese Coffee.
If people don't eat meat or are on special diets please let me know so that I can organise something with John. Further, if people don't want to have the banquet menue that's fine but life would be simpler for John if we had the banquet.
On the Sun. there will be a rememberance mass at St. Mary's in Dandenong at 10:30am for the 6 people from our year who have died.
After the mass a BBQ sounds like a good idea. Churchill Park has a nice covered area just in case it rains. Churchill National Park can be accessed by driving along Churchill Park Drive, Rowville (Melway ref: 82 C11) and continuing to the main gate about 1 km after the Power Road turn-off. The picnic shelter is about 300 meters in from the main gate.
Brief Schedule
Sat. 8th at 7pm - Lebanese Dinner at Sinbads
Sun.9th at 10:30am - Rememberance Mass at St. Mary's Dandenong
Sun. 9th from 12pm - BBQ at Churchill Park
So please keep the weekend of Nov. 8th-9th free to catch up with people you spent 6 years with at high school. Email or call me and let me know which activities you wish to attend, this is especially important for Sinbad's as I need to give John accurate no's of people turning up for dinner.
Fascinating Fact:
There are 5 Ph.Ds from HSC 1978 - Adrian Gilbert, Jenny Martin, Ron Van Schyndel, Sam Messiano and Wayne Caldow.
Sad Fact:
Six people from our year have died - Ian Terrington, Marisa Cardemone, Lynette Optfeld, Chris Vermeltfoort and Clifford Lekning and Leslie Blaney both of whom died when we were in form 3.
Fourth Reunion 1997

Two Ph.D's - FOURTH REUNION 1997

Five Old Boys - FOURTH REUNION 1997
Second Reunion 1988

SECOND REUNION 1988 Group Photo

SECOND REUNION 1988 Small Group Photo 1

SECOND REUNION 1988 Small Group Photo 2

SECOND REUNION 1988 Small Group Photo 3
More Pics:

Year 12 Class 1978 - Home Room 2

Year 12 Class 1978 - Home Room 3

Year 12 Class 1978 - Home Room 5

Year 12 Class 1978 - Home Room 6

Year 12 Class 1978 - Home Room 11


.

Reunion Convenor Contacts:

Contact Adrian Gilbert if you wish to attend the reunion or to send pics or info. about the class of 1978. If you wish you can ring me on 0414 966 854.

You can also contact via email Wilma or call her on 0438 270 702.



Copyright © Adrian Gilbert 2003 - All Rights Reserved
Last updated 15th Sept. 2003
Maintained by Adrian Gilbert
---